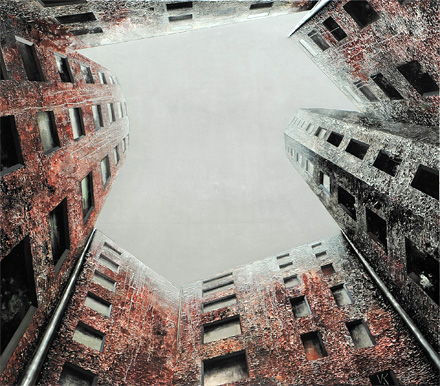 Born in Belarus, Kovalenchikova moved to Amsterdam in 2008, and opened a gallery and studio there in her own name, where she permanently shows her artworks. She has had solo shows and major group exhibitions across Europe and North America since the year 2000, often more than a dozen of these events per year.
Awards:
2011 Award from The Ministry of Culture of The Republic of Belarus for Enriching and Promoting Arts and Culture.
2011 First Prize and Gold Medal of Honor "LORENZO Il MAGNIFICO" at the VIII International Florence Biennale of Contemporary Art 2011 for her paintings "NO EXIT", 2011 and "Reflected Reality", 2010.
Kovalenchikova's works can be found in art collection of company Philips in High Tech Campus, Eindhoven, The Netherlands; RABO Bank, Amsterdam, The Netherlands; Museum of Russian Art, Jersey City, USA; Museum of Belarusian State Academy of Arts, Minsk; Contemporary Fine Art Museum, Minsk, Belarus; The National Art Museum of The Republic of Belarus, Minsk; Maslennikov Art Museum, Mogilev, Belarus; Romanov Regional Study of Local Lore Museum, Mogilev, Belarus; Mogilev Museum of Ethnography, Belarus; Belarusian Embassy in Berlin, Germany; Belarusian Embassy in The Hague, The Netherlands; Belarusian Embassy in London, United Kingdom; collection of the municipality of Coevorden, The Netherlands; collection of The Kolodzei Art Foundation, NYC, NY, USA; other private collections in Germany, Poland, Russia, Belarus, USA, The Netherlands, Belgium, Italy, France, Lebanon, United Kingdom, France and Switzerland.
Press:
"The contemporary trend in her paintings is characterized by a figurative integration of abstract elements. Victoria uses 'fragments of emotion' to express her individuality within the framework of urban views and landscapes."
Our Texas