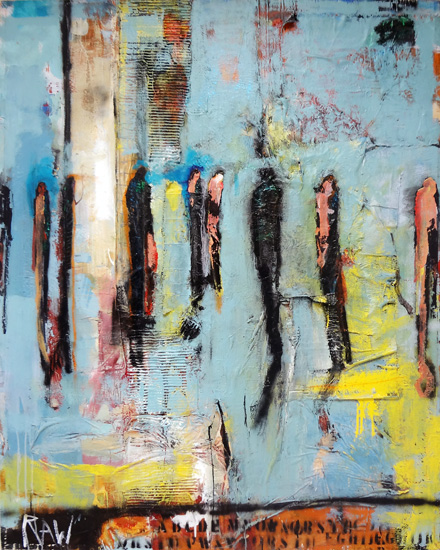 RAW is Californian artist Ronald Allen Wickersham. The artist writes of surrendering to a "great urgency" that drives him to bring his "thought dreams" to life, an emotional process he labels "RAWvision."
At first glance, the viewer sees shameless color, complex texture, and spontaneity. The creativity is raw and it's uncooked, perhaps rough. However, a closer examination reveals an unexpected elegance along with an ambiguity, that is carefully inserted through out the work.
Painted juxtapositions hold meaning-- often playful themes or an occasional social or political message, but the real meaning is always left to the viewer. Thoughts run rampant with unfinished phrases. And trains of thought that barrel through the station, slowing down just enough to splash their way on to the canvass. Corrected spelling becomes a casualty.
The figurative work may exhibit inevitable aloneness. However, the art seems to creatively illuminate the darkness and celebrate rather than hide such difficult emotions.
Wickersham's works are available exclusively in San Francisco at Arttitud.