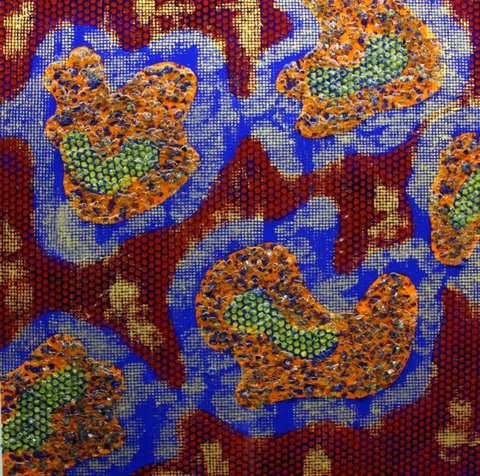 Artist Statement:
My pieces are colorful forms influenced by my interest in patterns, geometric shapes and shadows...graphic....yet free flowing...creating three dimensional feelings through the use of bright acrylic paints, epoxy, chunky textures, glass, paper, sand, nails, metal and smooth as felt finishes. At first glance, the finished pieces may look arbitrary...for the most part they are and then again they are not......sort of a ying and yang art style. Each piece or series first starts on paper, where each layer is planned & sketched. Then I experiment on smaller canvases (which I call "Test Strips") I let the flow of the mixtures ( acrylic paints with different additives to either slow or accelerate the drying process, combined with the curing process of the epoxy to create different affects. Once I'm comfortable with the colors, textures and style it is completed on panel. But because there is a lot of chemistry in my pieces - even after all the planning - varying conditions always create interesting outcomes. It's these arbitrary outcomes that add interest of each piece.
Bio:
I was born and raised in Northern California and have been interested in art & architecture since an early age. After High School I applied to Art , Architecture and Engineering Schools. I decided to study Engineering at California Polytechnic University (SLO), while continuing to take architecture & art classes on the side. My interest in art has never wavered and I have spent most of my idle time studying artists. I'm for the most part a self taught artist and continue to explore creative techniques to add interest to my art. Additionally, my career has taken me to most parts of the United States for extended periods of time, which has allowed me the opportunity to explore and study numerous galleries and artists. I have also been an avid art collector since the age of 18 and I have traveled most parts of Europe, Cuba and Mexico to explore art, collect art and meet artists.
Michael's work is for sale in our Arttitud gallery! Come by and check it out.